Jamie Lee Berube, President and Creative Director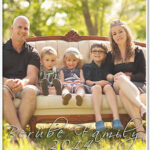 Before joining Head Office in November of 2012, Jamie owned and operated a successful Wee Piggies franchise. Her formal training in Sales, Leadership Development, and E-Commerce Management has helped to grow a strong business model, while her tech savvy capabilities and the drive to learn the current trends, has brought the company new technological advancements. Her commitment to product development and quality has continued to make WP Creations by Wee Piggies the leader in our industry.
A mom to three, and married to her college sweetheart, Shawn, Jamie loves to spend her time surrounded by TONS of family, socializing with friends and travelling whenever time allows.
Jamie has put her heart and soul into WP Creations by Wee Piggies. Her passion and enthusiasm of the company and dedication to our franchisees is the pillar to our success.
Jennifer Tsoutouras, Director of Franchise Development
For the past sixteen years, Jennifer has worked in Business Management and Executive Administration and before joining our team at Head Office, she owned and operated one of our WP Creations by Wee Piggies franchises. Jennifer has always had a passion for creativity and being a leader in the world of small business. WP Creations by Wee Piggies has given her the opportunity to help deliver this same passion to the "work at home mom" who also shares this ambition. Jennifer brings her skills in business strategies and operations to help further expand and develop our franchise.
Originally from Ottawa ON, Jennifer has lived in Nova Scotia as well as Newfoundland. Fourteen years ago she moved back to Ontario and now calls Whitby home. Her husband, Chris, and three children are the reason she is driven to bring the WP Creations by Wee Piggies home-based franchise to women who want to be in business for themselves while still having a strong connection to their families.
Our Franchisees – The Backbone of the Business
Our franchisees are the foundation and the fundamental core of WP Creations Wee Piggies. They efficiently manage their own businesses and take the utmost pride in their workmanship. Their commitment to our brand is what makes our products so unique and special. They know the significance of what they create and what it means to our customers. They are dedicated, knowledgeable, courteous, and warmly welcome you into their home based studios where the process of creating a one of a kind keepsake begins.
To access their websites, and to book your appointment, please follow the link provided: https://wpcreations.com/location
We look forward to your feedback so that we can continue to revise and improve on our products and services. Please email info@wpcreations.com for any questions you may have.