Forever Preserved: Commemorating a Child's Communion Hands with a Lifecast Statue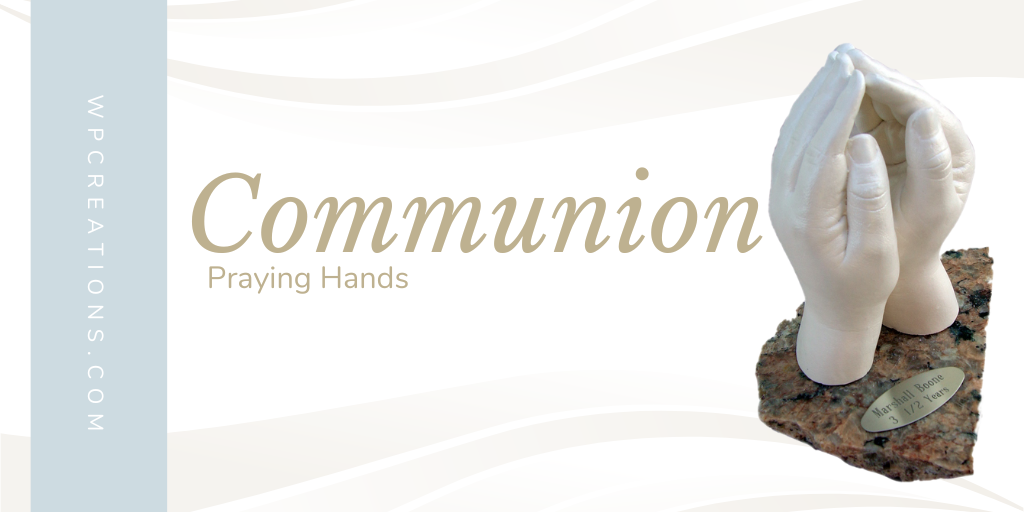 A story from a client "The only things I love more than my children's shadow boxes are the beautiful praying hand statues that I had created, to commemorate their Communion day.
Of course, one of my intentions for having this done, was to capture the memory of a special milestone …the progression of their lives in our faith.
Admittedly, the other motive was purely a mother's attempt to preserve the fleeting smallness of them both…before it became too late. I realized early on that my babies, first my daughter and then my son,  were growing up way too fast.
First, seeing my daughter twirl around in her dove white communion dress gave me visions of her in the future. It reminded me in that moment that her small hands would one day, outgrow mine.
Watching my 8 year old boy proudly observe himself in the full length mirror, wearing his fitted blue linen suit, nearly brought me to tears.
Being a parent, for those that are, is the greatest honour that exists in life.  Knowing that you have raised your youngsters to become kind, loving and empathetic contributing members of society provides a great sense of pride.
This still does not negate the fact that we all become just a little bit sad, knowing they will grow up and spread their wings, and no longer need us in the way they did when they were newborn, 4 years old or even 8 years old.
So in truth, creating the praying hands statues for my children was most certainly, a gift to myself.   I caress the tips of their fingers, when I walk past them sitting on my display table.  I study the lines and the detail captured around the nail bed.  I hold and measure my hand up against the length of theirs.  In these moments, their hands still fit inside mine.  No matter how old and big they get, they will always be my babies.  I will always cherish the lifecast statues of their tiny hands that I will always have to prove that."
Audrey
Back