Life Casting – a 3D Exact Replica Of Your Precious Baby's Hand Or Foot.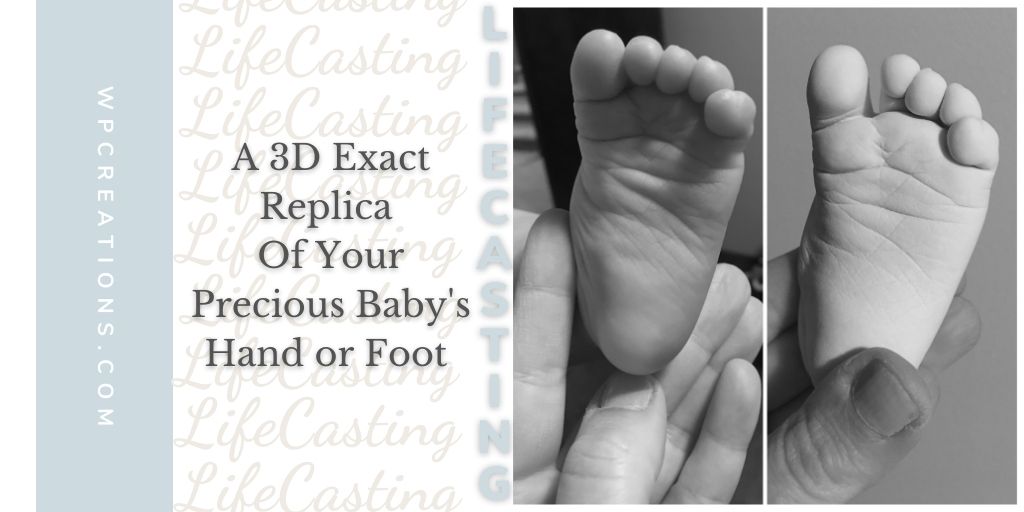 WP Creation has a proven system of capturing prints and our unique mold material will make the process easier than you think.
WP Creations was started in 2001 by a Mom wishing to capture her children's unique hand and footprints.
As Canada's original baby Life Casting company (since 2001), we have plenty of experience working with babies and children. Our 3D casts are made from our custom moulding material formula mirroring Alginate – a material that dentists use in people's mouths all around the world. Our version of 'Alginate' has been customized to have a quicker set time thus allowing us to successfully create life casts of children's hands and footprints.
Is the material used in life casting safe?
Safety First! The moulding material we use at WP Creations is made exclusively for us; it is a comfortable 'bathwater warm' temperature, free of dyes and perfumes, and safe to use on babies delicate skin. The hand or foot will be in the (bathwater warm) mold material for approximately 60 seconds in total.
What is the ideal age?
The question we like to ask you is, what would you like to have captured as a memory frozen in time for years to come? Would you prefer having your child cast while their hands/feet are still very small or would you like to capture a milestone? We have cast babies as young as 1 day old to adults at 86.
How should my baby be and do they have to remain still?
Having baby a little more relaxed can help with your WP Creations' experience. Therefore, following some of the suggestions below will make your experience with us even more amazing.
Plan to have your baby arrive a little sleepy (but not overtired)
Perhaps waking the baby earlier in the morning or from a nap, and/or bathing him/her before you come might be helpful if you're willing
If there is a favourite toy or rattle for your baby, please bring that too as it can be very helpful as a distraction
Feeding baby during a life casting appointment is the best distraction for the casting process.
I appreciate your understanding in possibly altering his/her regular schedule for the appointment. Having baby calm during casting will ensure we get as detailed of prints as possible, and will avoid having to book a second appointment, which may be necessary if detailed casts are not achieved. Similarly, we may have to look at other comparable keepsakes if attempts at good casts are unsuccessful.
Please trim your child's nails prior to your arrival
Back