September Childhood Cancer Awareness Month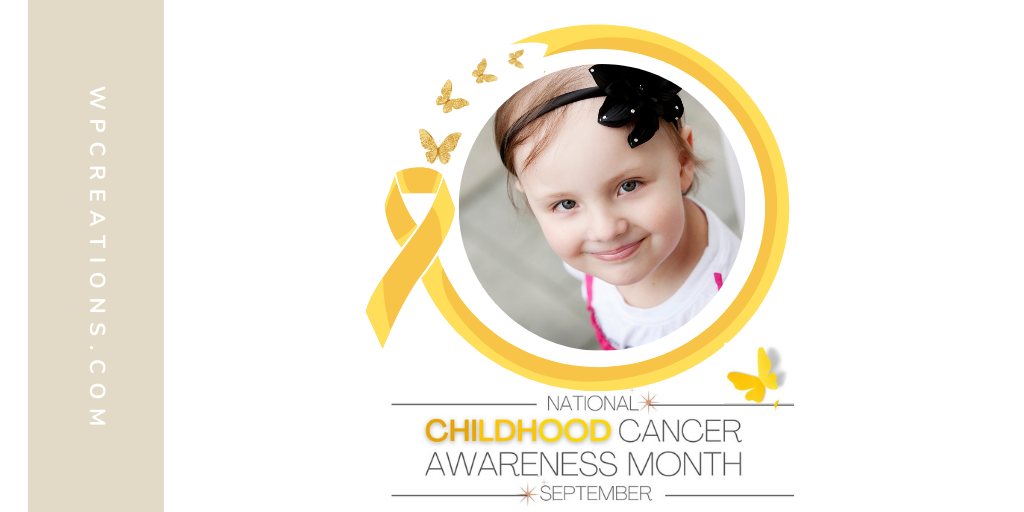 "Your Daughter has Cancer"
I can't think of many other things a doctor could say to me about my child that would be this devastating, full of fear, panic, and sadness.
This is the beginning of Sherri, one of our previous franchise partners' stories about her little girl, Ava Hope. Although Sherri is no longer a Franchise owner, WP Creations still honours her daughter's story every year and does our part to fund-raise for the fight against childhood cancer.
Every year WP Creations as a whole comes together to tell Ava's story, along with any of our own personal stories, and run a month-long fundraiser for Childhood Cancer Research. We do this to try to help people understand what the fight against cancer for children looks like…….and to be honest…..it's not the best. The statistics below are devastating. Most people don't know how poorly funded childhood cancer research is in Canada. One point that sticks with us the most is that only 5% of all funds go towards childhood cancer research…….this makes us very sad as mommas. It just shows how much help is needed. Even if it's just us coming together to tell these stories and do our part in trying to get the help however we can.
Please, take a moment to read Sherri's story below of her beloved Ava Hope. And learn more about the statistics for the fight against childhood cancer.
"Your daughter has cancer."
No parent should ever have to hear those words. No two-year-old either.
But yet, there we were, in the ER late on a Friday night. It was August 8, 2008, and my entire world was flipped upside down when the doctor, very factually, stated to me that Ava had leukemia. There was no question. There were no errors. This was it and the horrible world of childhood cancer began for us.
You may be reading this and think, it will never be you or your child. There was a day when I, too, wasn't a cancer mom. But let me tell you, cancer does not discriminate. It can happen at any age, no matter your ethnicity, your social status, or where you live, it can happen to anyone. But when it happens to an innocent child who is at the very start of her little life, it is beyond cruel.
So, I ask you now to stay, to read to the end of this article so you can know the facts and the statistics. Our children need us, and we need to do better for our children. The statistics are staggering, and the outcomes are not good. We need to do more for this extremely underfunded disease: Childhood Cancer.
Did you know that in Canada?
Childhood cancer is the number one cause of death by disease for kids aged 1 to 19, more than any other disease and more than all other childhood diseases combined.
There are about 10,000 kids living with cancer in Canada today.
1 in 5 children will die from their cancer.
In the last 34 years, there have only been 4 new treatments approved by Health Canada for cancer kids.
By age 45, 80% of survivors have a life-threatening health condition – directly resulting from harsh treatment with chemotherapy and radiation.
Currently, Childhood Cancer only receives 5% of the total research funding for cancer.
"My daughter, Ava Hope, was one of the 1600 Canadian children diagnosed with cancer in 2008 – one month before she turned two years old. She endured 5 rounds of harsh chemotherapy treatments for a rare and aggressive form of AML (Acute Myeloid Leukemia). We lived in the hospital for the majority of 6 months. Not only did we have a two-year-old enduring cancer, but we had a two-month-old baby as well. Ava was declared cancer free after the first round of chemo and we completed all cycles and returned home in February 2009. In September, Ava turned three years old and five days later relapsed. Again, we endured 5 rounds of intense chemo in Regina and then traveled to Calgary where she had a stem cell transplant in January 2010. We lived in Calgary for 5 months. Ava did amazingly well and again, was declared cancer free! We had a wonderful 16 months with thoughts that the disease was behind us. This was not the case. At a routine check-up in June 2011, we discovered Ava had relapsed again. We chose to leave our Ava alone this time and not subject her to any harsher treatments. Ava passed away in July 2011, at her home with her family and dogs with her, at the tender age of 4 years and 10 months. We have lived without our Ava for 8 years. She and so many other children who have passed away deserved better than what she got and so she drives us to do better for children.
Since September is Childhood Cancer Awareness Month, I certainly do my best to advocate the most at this time of year. I have coordinated flag-raising events at Regina City Hall and the Saskatchewan Legislature, requested the RCMP Heritage Centre light up gold for September, been interviewed for the Regina Leader Post, and have appeared on CTV Morning Live Regina 7 years in a row. Honoring Ava and leaving a legacy in her name is very important to me.
Somehow in the years since we have lived without Ava, my family has still had many joyful moments. We believe Ava taught us to live each day to the fullest and not to let anything stop us from enjoying life!
In Ava's last few weeks of life, I contacted my local WP artist as I didn't own the business then. She casted Ava's hand and foot and we treasure this beautiful keepsake of our sweet girl! We also have fingerprint jewelry and photo crystals of Ava.
Ava's the inspiration behind this month's promotion! When you purchase a shadow box in the month of September, we will donate $25.00 to Childhood Cancer Canada.  This is such a worthy cause!
There are many other kids with a story similar to Ava's. I have created keepsakes for other families of other children with terminal cancer. As a national franchise chain, many of our locations have also done so. We hear similar stories across the country which is another reason why this campaign is so important.
Thanks for reading and thanks for considering donating to this worthwhile cause!"
Sherri Melnychuk
Sherri is a previous WP Franchise Partner. She lives in Regina with her family: husband, Randy, daughters: Alivia and Anaya, and dogs: Maggie and Elmo. You can read more about Ava's family journey at Sherri's blog
Back